Contact Skype Therapy
Skype, FaceTime, Viber, Messenger, WhatsApp.
Using Skype
Skype is a FREE to download and use software that provides world-wide video chat between devices. It can be accessed between desk top and lap top computers, tablets or mobile/cell phone devices through the internet. Skype is free of adware, malware and spyware. Skype is safe and confidential.
You can download Skype for FREE here. You will be guided through a simple step-by-step process. Select a username. Check your audio and video connections. You can check your Internet speed for free at http://beta.speedtest.net or http://www.netmeter.eu
Add 'Peter Zapfella' to your contacts list. Then send him a short text message to confirm a connection. Or, you can send your Skype ID to Peter (on the contact form below) and he will set up a connection for you. For more information see How to get started with Skype.
Using FaceTime
FaceTime is similar to Skype, but is currently only available between Apple devices. It is supplied as a standard FREE software/application on most Apple devices. If you are using an older Apple Mac computer, iPad or iPhone you can download FaceTime from the Apple Store for around one dollar.
Facetime requires a minimum 1Mbps download and upload speed. You can check your Internet speed for free at http://beta.speedtest.net or http://www.netmeter.eu
FaceTime is very easy to use. Simply send 'Peter Zapfella' a text message to confirm contact, or email Peter your FaceTime ID and he will contact you direct. For further support go to How to use FaceTime.
Please indicate your location and the nature of the personal challenge/s you wish to change. Your phone number will enable Peter to discuss your particular issues with you and give an appropriate fee estimate.
Phones
Australian Mobile/Cell Phone +61 432718026
Australian Landline +61 (0) 8 95352358
FREE CALL: 1800 SEE ZAP (1800 733 927)
Facebook
Gift Vouchers
Give the gift of health, happiness and vitality for any of Peter Zapfella's therapies to your loved one's.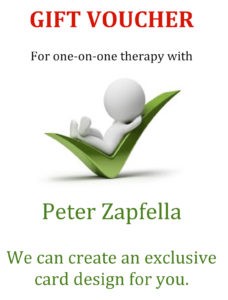 Ask Peter for details.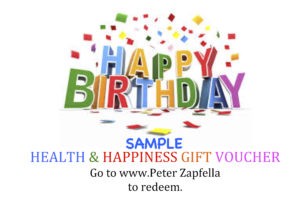 Share these pages with your friends:
Voice Over Internet Protocol, VoIP, Internet telephony, online hypnosis, eTherapy, virtual therapy, Skype hypnosis, Skype hypnotherapy, Skype therapy, therapy via skype, Viber, FaceTime, Face Book Messenger, WhatsApp, Skype tele-counselling,Telehealth counselling, Online Counselling Services, Web Counselling